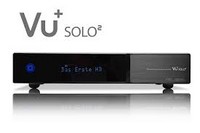 How to flash vu+ solo 2 with usb stick
Download the vu+ Solo 2 image you want to install on your PC.
Unzip to a USB stick
Turn off the VU+ Solo 2 on the back
Insert the USB stick on the front of the Solo2
Turn on the VU+ Solo2
Follow the messages on the front display of the vu+ Solo 2.
Touch sensitive standby button to update ( purple color )
The Solo2 installs the image from the usb and reboot.
WSF.