IPTV TvSatMedia
VERY STABLE THE BEST SERVER
over 6.500+ channels + 70.000+ VODs: EN, UK, DE, IT, FR, NL, PT, ES, PL, SE, NO, DK, FI, RU, IR, IN, HK, JP, KR, TH, CH, AU, BG, GR, EX-YU, XXX… !!!

Supported systems are:


- IPTV Compatible Recievers Enigma2 DM800HD,DM500HD, VU+, Cloud i-box, Gigablue..ect (IPTV best works on receivers with enigma2 images OpenPLi and OpenATV - the best OpenPli)
- IPTV Compatible Recievers Amiko (WebTv.list Spark), Ferguson Ariva, Octagon, Smartlive, Geant, Starsat, Tiger, MediaStar, Fortec....etc
- Computer VLC player or Simple Tv or XBMC Progdvb Satellite
- Android Devices (Samsung Galaxy / iPhone / Ipad / Galaxy Tab)
- Android tv boxes & tablets
- Android smartphones
- Smart TV (LG & Samsung)
- MAG BOX (Mag250/254/260)

If you do not want to have a FULL list, then do this: On this list, select the groups you want to have in your list.
Please mark on the picture or write a list!!!
If you want to edit the your list, send the name of your account (copy line or mac) and list of the groups you want to have on the list !!!
This function now can be used by both old and new clients.
If you do not want to change anything and want to keep the FULL list, simply ignore this notice !!!



Important tip

FULL list - that maybe can be a big problem !!!
By default, all categories are included while you create a new trial/subscription, we recommend you to select your most favorites categories to avoid of any crash-app !!!
Recommendation !!!
Select country groups for your list. Mark in the screenshot or write, then send?
We will make your list on server, as you wish !!!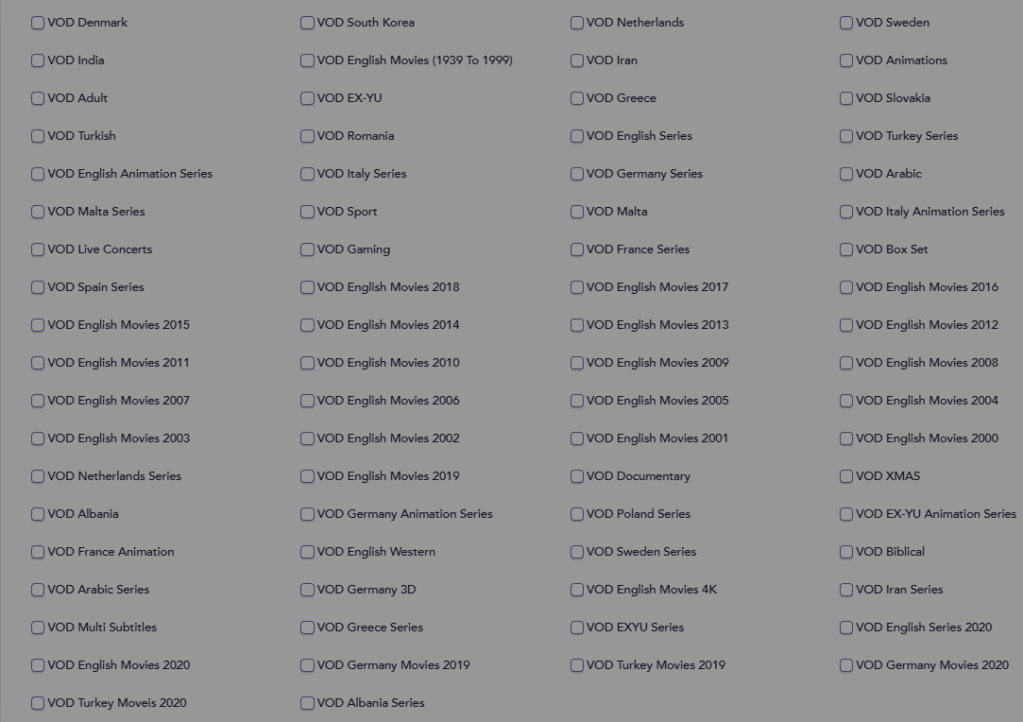 FULL list or EDIT list ???
Do you want all gurps (countries) or do you want me to remove some countries from the list?
What? Mark on screen or write?
NEW UPDATE !!!
Latest iptv channels list:
[Only Registered Users Can See LinksClick Here To Register]
for TRIAL FREE TEST 24 hours to immediately specify to:

IPTV for which device?
Maybe you know which the file format you need (enigma2 .ts, m3u8, .m3u etc) ?
If you use the receiver then which image is installed (openpli, openatv, blackhole etc) ?
For MagBox send MAC ?
Contact:
e-mail::
[Only Registered Users Can See LinksClick Here To Register]
or
[Only Registered Users Can See LinksClick Here To Register]