Apache Territory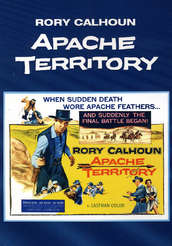 Released: 1958
Director: Ray Nazarro
Actors: Rory Calhoun, Barbara Bates, John Dehner
Apache Territory is an Action-Western movie based on a Louis L'Amour novel.
Rory Calhoun stars as a drifter who finds himself helping a group of backbiting settlers under Indian attack. Most of the ungrateful pilgrims run to their deaths in spite of the cowboy's efforts to save them.
Calhoun eventually defeats the Indians and rides off into the sunset with Barbara Bates.